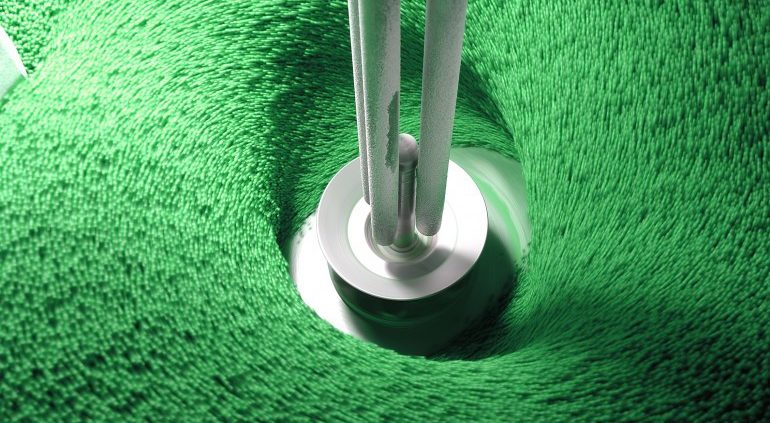 Veendam/Amsterdam, June, 2018
Royal DSM, a global science company, and Amulix, a developer of starch-based solutions for agricultural and industrial applications and daughter company of Dynaplak, announced they will work together under the company name DSM-Amulix. DSM-Amulix will further develop high-perform­ing, bio-based coating solutions for agricultural starter material, under the brand name Amulix. The company will be located in Zwolle, the Netherlands, and maintain a global presence through DSM.
 Specifically, DSM-Amulix will address the need for a sustainable alternative to the current widespread practice of using polymer-based synthetic coatings with limited bio-degradability on seed to improve sowability and seed visibility in the soil and to apply Crop Protection Products on seed. DSM-Amulix's innovative bio-based seed coatings outperform current coating suppliers on germination, dust-off and total performance. Crucially, these bio-degradable, bio-based coatings not only have a lower carbon footprint than polymer-based synthetic coatings, but they also offer a viable solution to the issue of microplastic pollution.
With Amulix seed coatings, both chemical and biological crop protection products can be applied on vegetable and field crops seed. What's more, Amulix products are suitable for both conventional and organic seed as in autumn 2018 they are expected to be organic certified.
Sjaak Griffioen, Director Innovation, Strategy and Sustainability DSM Resins & Functional Materials: "By joining forces with Amulix, we will be driving the conversion from fossil- to bio-based coatings in a highly important market. In particular, Amulix products will help to eliminate hazardous agents from the ecosystem and reduce our dependency on petrochemical raw materials."
Koos Slor, Managing Director Amulix: "By working together with DSM, we hope to leverage their global scale and expertise to further develop the highly innovative Amulix product range. DSM's core values are aligned with ours: we both believe in developing sustainable solutions that make a positive impact."
Amulix BV
Based in Veendam, the Netherlands, Amulix BV is a daughter company of Dynaplak Holding BV. Dynaplak Holding has an extensive track record in developing starch-based solutions for agricultural and industrial applications. In particular, Dynaplak aims to create new products that perform better and at a lower impact than those made with petrochemical-based raw materials.
DSM – Bright Science. Brighter Living.™
Royal DSM is a global science-based company active in health, nutrition and materials. By connecting its unique competences in life sciences and materials sciences DSM is driving economic prosperity, environmental progress and social advances to create sustainable value for all stakeholders simultaneously. DSM delivers innovative solutions that nourish, protect and improve performance in global markets such as food and dietary supplements, personal care, feed, medical devices, automotive, paints, electrical and electronics, life protection, alternative energy and bio-based materials. DSM and its associated companies deliver annual net sales of about €10 billion with approximately 25,000 employees. The company is listed on Euronext Amsterdam. More information can be found at www.dsm.com/paint or www.dsm.com.
https://www.dynaplak.nl/wp-content/uploads/2015/07/SEED_GREEN.jpg
432
770
Dynaplak
http://www.dynaplak.nl/wp-content/uploads/2015/07/logo_dynaplak_255500_mac-300x99.jpg
Dynaplak
2018-06-20 22:09:00
2020-01-09 10:37:24
DSM and Amulix to work together on bio-based seed coating solutions